Welcome to the picturesque city of Ocala, nestled in the heart of sunny Florida. Known for its breathtaking natural beauty, vibrant equestrian culture, and year-round warm climate. Ocala is a golfer's paradise. With an array of meticulously designed Ocala golf courses, scenic landscapes, and challenging fairways, this charming city offers an unforgettable golfing experience for enthusiasts of all skill levels. Keep reading to learn more about the best golf courses in Ocala!
Tee Up and Experience the Top Ocala Golf Courses
Whether you're a resident or a visitor, this blog will serve as your ultimate guide to discovering the best golf courses in Ocala. Prepare to be captivated by championship-caliber layouts designed by renowned architects, where strategic bunkers, undulating greens, and water hazards pose exciting challenges at every turn. We'll introduce you to golfing gems with impeccable course conditions and world-class facilities. These courses are close to our communities and Deltona homes in Ocala, FL. Let's dive into the vibrant golf scene and uncover the best Ocala golf courses and remarkable experiences awaiting you on the greens.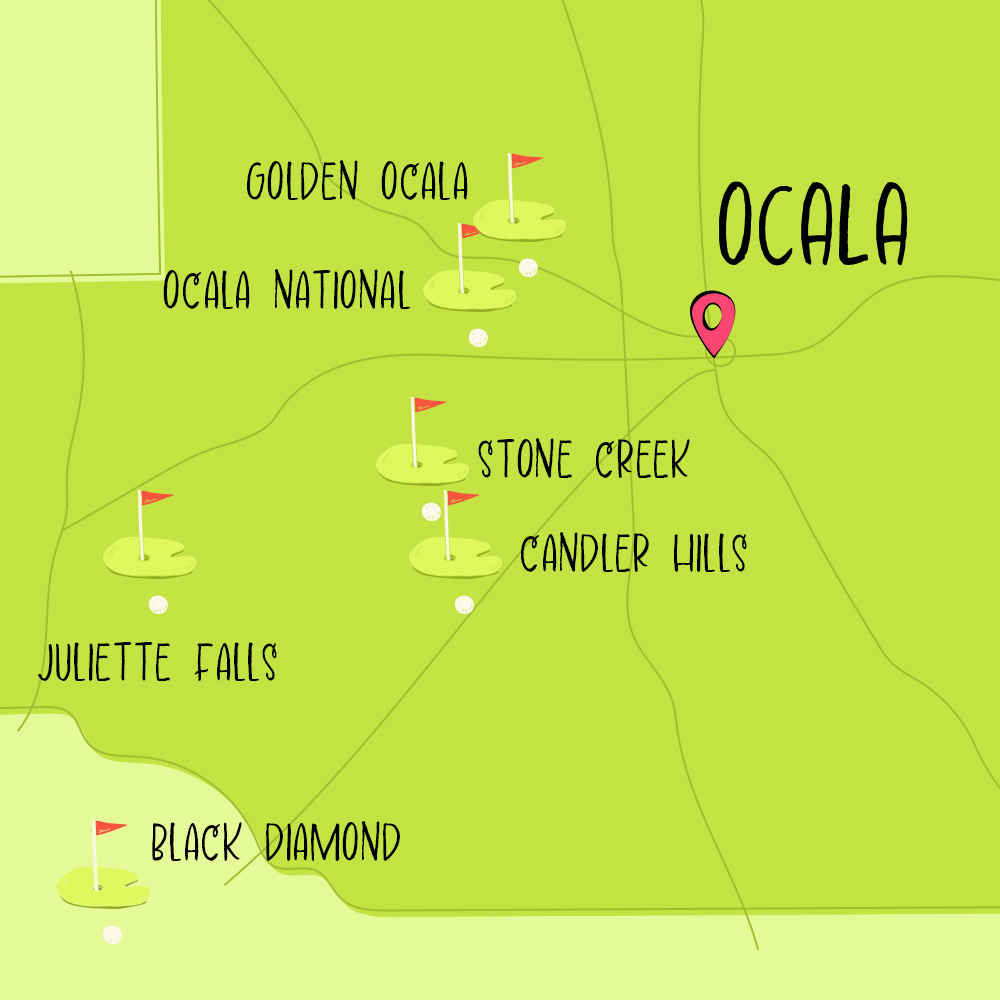 Best Ocala Golf Courses
Golden Ocala Golf & Equestrian Club
Golden Ocala Golf & Equestrian Club offers golf enthusiasts an exceptional experience in a picturesque setting. This is undoubtedly one of the most popular golf courses in Ocala. Designed by the famous architect Ron Garl, the 18-hole championship course stands out with its unique tribute to prestigious golf courses. Eight masterfully recreated tribute holes pay homage to legendary venues such as Augusta National Golf Club and Royal Troon Golf Club. With additional tributes to Baltusrol Golf Club, Muirfield Village Golf Club, and St. Andrews Links, Golden Ocala seamlessly blends the allure of these iconic destinations. And it allows golfers to embrace this rich heritage while enjoying a captivating and challenging round.
Ocala National Golf Course
Another one of our top recommended golf courses in Ocala is Ocala National at Golden Hills Country Club. Ocala National first opened in 1964 and was the first private country club in Marion County. Today, Ocala National is one of the semi-private Ocala golf courses that offers memberships and public tee times. This golf course is a redesigned Rees Jones course that is set among rolling hills and thoroughbred horse farms. The scenic fairways are surrounded by majestic oaks and towering pines and the course is known for its strategic bunkering. The layout is renowned for its versatility, as it can be enjoyed by players of all skill levels.
Best Public Golf Courses in Ocala
Stone Creek Golf Club
Since its opening in 2008, Stone Creek Golf Club has quickly become a beloved golf destination. Designed by Terry Doss, the 18-hole championship course caters to golfers of all skill levels. With panoramic views and beautiful lakes integrated throughout, Stone Creek offers a delightful golfing experience. Spanning 7,221 yards over 187 acres of lush countryside and rolling hills, the course features large undulating Champions Bermuda greens and precise bunkering. Eleven of the 18 holes include water hazards, providing a challenge for both beginners and experts. Safety is a priority, with tunnels allowing safe passage for golf carts and pedestrians underneath major community roads.
Stone Creek Golf Club also provides a driving range, practice putting green, chipping green, and a well-stocked golf shop. Public players can book tee times up to seven days in advance, and the club accommodates daily bookings, tournaments, and scheduled group outings. Additionally, they offer a Range Program for those looking to improve their game and use the practice facilities. This makes Stone Creek one of our top recommendations when our clients are looking for golf courses in Ocala.

Image courtesy of www.stonecreekgolfocala.com.
Candler Hills Golf Club
Located within the On Top of the World retirement community, Candler Hills Golf Club is a public course featuring an 18-hole, par-72 championship layout. This golf club is the host of the Ocala Open golf tournament. The course features five sets of tees spanning from 4,877 to 7,233 yards, ensuring an enjoyable and rewarding round for players with different handicaps. The beauty of Candler Hills lies not only in its unique layout but also in its picturesque scenery. The course boasts a Palm Springs-style landscape, with a diverse array of trees such as sabal palms, live oaks, and slash pines, along with various ornamental grasses. This distinctive blend of flora creates a captivating ambiance that sets Candler Hills apart from your typical Florida golf course. Golfers can immerse themselves in the natural splendor of the surroundings while relishing their round of golf on this exceptional course.
Best Golf Courses Near Ocala, FL
Juliette Falls Golf Club
Juliette Falls Golf Club isn't exactly in Ocala.  Its located in Dunnellon, just outside of Ocala. Juliette Falls is a semi-private golf course that offers a unique blend of natural beauty and challenging play, with water features and rolling hills. This upscale public golf course features an 18-hole championship layout designed by John Sanford, and is set in a charming landscape. The course showcases rolling fairways, strategically placed sand traps, and stunning water features that add both challenge and aesthetic appeal to each hole. Golfers of all skill levels can enjoy the meticulously maintained course, which offers multiple tee options to accommodate different playing abilities.
Beyond the exceptional golf, Juliette Falls boasts a state-of-the-art practice facility, including a driving range and putting green, allowing golfers to hone their skills. The club also provides top-notch amenities, including a clubhouse with a pro shop and a restaurant, where players can relax and unwind after their rounds. With its combination of stunning scenery, challenging layout, and superb facilities, Juliette Falls Golf Club stands as a must-visit destination for golf enthusiasts looking for things to do in Citrus Springs, Timber Pines, or Ocala.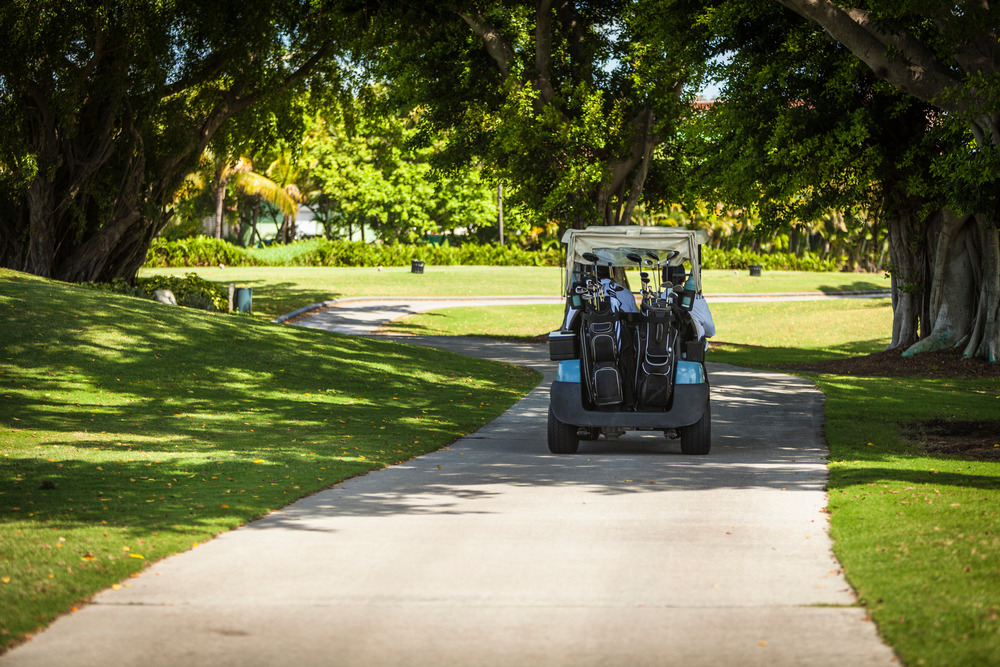 Black Diamond Ranch
While the other golf courses in Ocala or Dunnellon are in Marion County, Black Diamond Ranch is in Citrus County, close to our Citrus Hills and Timber Pines communities. Nestled amidst the serene beauty of Florida's Nature Coast in Lecanto, Black Diamond Ranch is a haven for golf enthusiasts and those seeking tranquility and leisure. This extraordinary destination defies the conventional image of Florida golf courses, thanks to the masterful design of Tom Fazio.
With 45 captivating holes, Black Diamond Ranch offers an immersive experience on undulating terrain, tawny-colored sand mounds, and scenic water obstacles. The crown jewel of the course is the dramatic quarry, with its depths reaching 80 feet below ground level. Golfers can navigate the quarry's edge, marvel at the lush tropical vegetation, and find solace amidst the towering oaks. Black Diamond Ranch presents a truly unique and unforgettable golfing experience, harmonizing nature's splendor with the challenges and rewards of the game. While this is a short drive from Ocala, it is very close to our Deltona homes in Citrus Springs, Florida.
Which Ocala Golf Courses Will You Explore?
After reading about some of the best Ocala golf courses, we hope you're inspired to embark on your own golfing adventure in this captivating region. Whether you choose to tee off at the prestigious Golden Ocala Golf & Equestrian Club, challenge yourself at the strategic Ocala National Golf Course, indulge in the beauty of Stone Creek Golf Club, immerse yourself in the unique ambiance of Candler Hills Golf Club, or venture slightly outside Ocala to experience the stunning Juliette Falls Golf Club or Black Diamond Ranch, each course offers its own distinctive charm and unparalleled golfing experiences.
From championship-caliber layouts to scenic landscapes and exceptional facilities, these Ocala golf courses do not disappoint. Ocala lives up to its reputation as a golfer's paradise. Beyond the fairways, Ocala's warm weather, breathtaking natural beauty, and vibrant equestrian culture add an extra layer of enchantment to your golfing getaway. Take advantage of the year-round sunshine, explore the surrounding attractions, and savor the tranquility that permeates this picturesque city. Whether you're a resident or a visitor, Ocala's golf courses beckon you to embrace challenges, soak in the beauty, and create lasting memories. So, grab your clubs, tee up, and explore one of these Ocala golf courses to embark on an extraordinary golfing journey!