Florida Home Landscaping Ideas to Revitalize Your Yard 
North Port, Florida, is the fifth largest city in the state. Spanning over 103 square miles, it boasts an impressive 8,000-acre state forest. With its average temperature of 80 degrees, North Port is the perfect place to enjoy Florida lifestyle living.  At Deltona, we understand the allure of this vibrant city, where homeowners can maximize their time outside and enjoy outdoor activities year-round.
Whether it's creating a lush and inviting landscape or cultivating a thriving garden, North Port allows homeowners to immerse themselves in the beauty of nature. We hope our Florida home landscaping ideas inspire you to make the most of your space. Whether you're a seasoned gardener or just getting started, planting flowers and bushes can add color and texture to your home's landscaping. Here are some Florida home landscaping ideas and the best flowers and bushes to plant for home landscaping in North Port.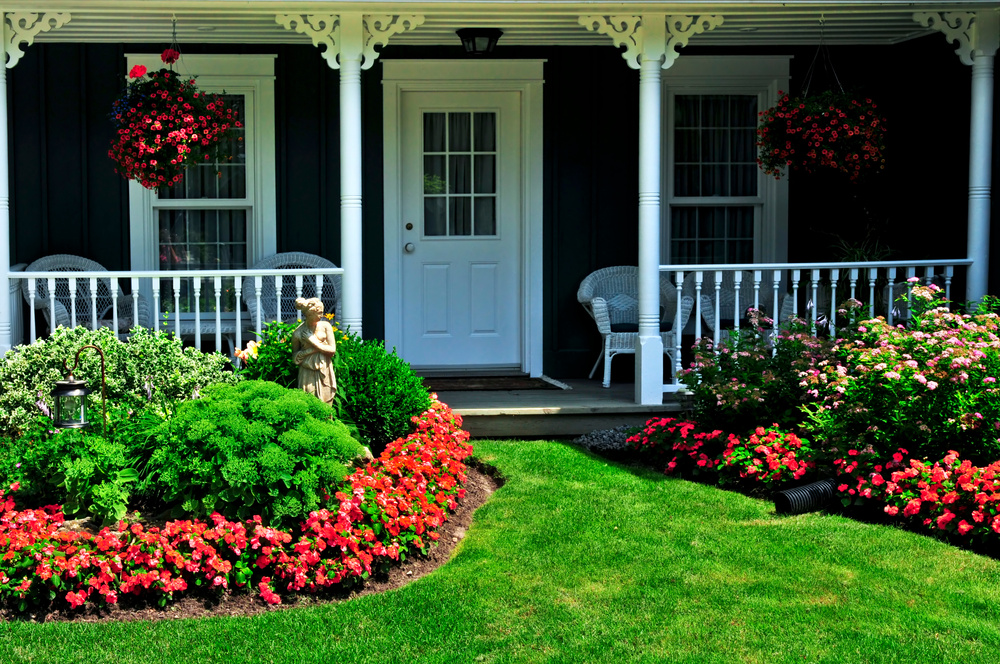 Florida Front Yard Landscaping Ideas to Create a Floral First Impression
At Deltona, we understand the importance of creating an inviting and beautiful front yard landscape. To create a warm and inviting first impression for front yard landscaping in North Port, choose colorful and Florida-friendly plants. Next, design an inviting entryway with pathway lighting and incorporate welcoming accents like a charming front porch or decorative front door. Additionally, consider adding focal points such as window boxes, mailbox plants, door urns and porch planters. Lastly, use mulch, rock, or ground cover for a polished look.
Front Yard Landscaping Ideas: Best Plant Options
When it comes to choosing the best plant options for your front yard in North Port, we recommend considering a variety of factors. Consider the amount of sun exposure, soil conditions, and maintenance requirements. Some popular plant choices that thrive in Florida's warm and humid climate include vibrant bougainvillea, elegant queen palms, fragrant jasmine, colorful hibiscus, and versatile agapanthus. These plants not only add visual appeal but also contribute to a welcoming atmosphere for your home.
While the flowering plants add a pop of color, ornamental grasses soften the landscape and add movement to your front yard. Think about adding muhly grass for a soft texture and movement in your yard. And consider planting Asiatic jasmine as a ground cover in shady areas where grass won't grow. Ornamental trees like crape myrtles and dwarf palms, like pygmy date palms, can be an attention-grabbing addition to any landscape. Mixing in different shrubberies will further add interesting textures. Crotons are great to accent green shrubbery and add an additional splash of color to any yard.  Lastly, if you enjoy the bright accents, you can consider adding more throughout your landscape by planting gold mound duranta.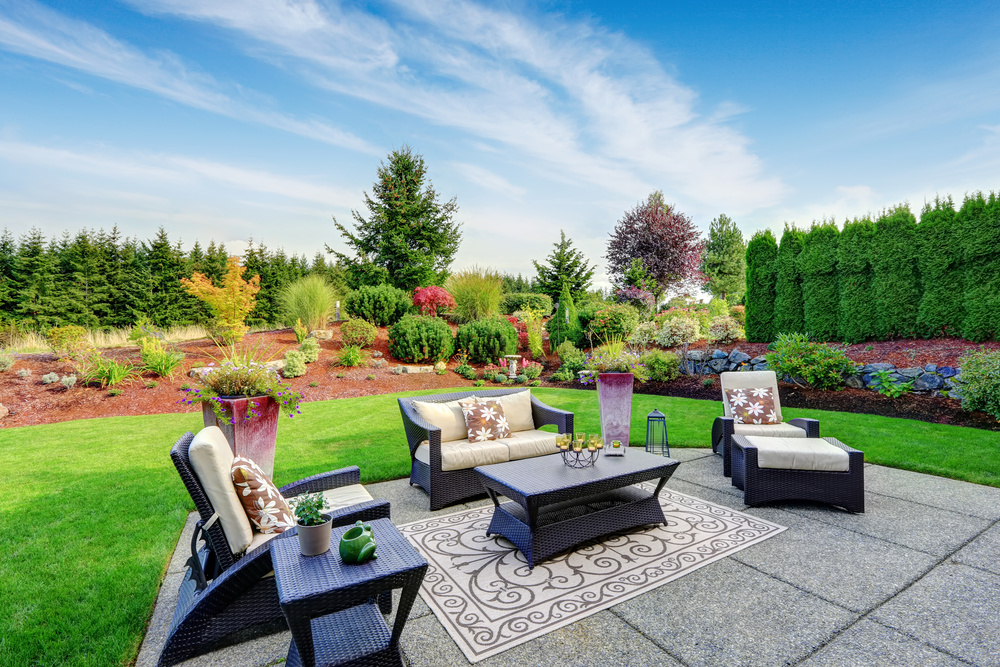 Florida Backyard Landscaping Ideas to Elevate Your Outdoor Space
Creating a serene escape in your backyard is all about harnessing natural beauty and incorporating elements that promote tranquility. To achieve this, consider incorporating lush tropical plants, such as palm trees, hibiscus, and bird of paradise. On top of that, consider adding a water feature to incorporate the soothing sound of flowing water. Think about features such as a small pond, fountain, or cascading waterfall.
Next, include comfortable seating areas with plush outdoor furniture and shade options. At Deltona, we love the idea of pergolas or umbrellas to provide relief from the sun. You can also enhance the ambiance by installing outdoor lighting. Lighting can illuminate key features and create a warm and inviting atmosphere in the evenings. Additionally, adding privacy screens or hedges can create a sense of seclusion and enhance the peacefulness of your backyard oasis. Lastly, don't forget to include elements that stimulate the senses, like fragrant flowers and herbs, wind chimes, and ornamental grasses.
We hope you are inspired by these Florida backyard landscaping ideas. Transform your backyard into a serene retreat where you can unwind and escape the stresses of everyday life!
Backyard Landscaping Ideas: Best Plant Options
When it comes to selecting the best plant options for your backyard in Florida, prioritize plants that can thrive in the climate, while also providing beauty and functionality. Some excellent plant choices for Florida's warm and sunny environment include native plants like firebush, coontie, beautyberry, and muhly grass. These plants not only add vibrant colors and textures to your backyard but also attract backyard birds and local wildlife.
If your backyard is fenced or you have a trellis, consider adding climbing vine plants, such as coral honeysuckle. This climbing vine produces beautiful red or orange tubular flowers that attract hummingbirds. And you can create ambiance by planting trees for shade. Consider planting decorative trees like magnolia or loblolly bay trees or large shrubs for shade such as hydrangeas. And if your passion is tropical gardening, then North Port is the place for you. Grow mangos, citrus, avocados, and coconut palms right in your own back yard.
Whether you're looking to create a serene retreat or an entertaining space, choosing the perfect plants can transform your backyard into a stunning oasis that suits your lifestyle and enhances the value of your Deltona home.
Embrace the Exotic with these Tropical Plants for Florida Landscaping
Embrace the exotic beauty of tropical plants for your Florida landscaping. These vibrant plants are well-suited to the state's warm and humid climate. And they add a touch of paradise to your outdoor spaces. We love incorporating iconic palm trees, such as the majestic royal palm or the graceful areca palm, to create a tropical ambiance. Other popular tropical plants for Florida include the colorful bird of paradise with its striking orange and blue blooms, the fragrant plumeria with its captivating flowers, and the dramatic elephant ear with its large, tropical foliage. Keep reading for more about some of our favorite tropical plants.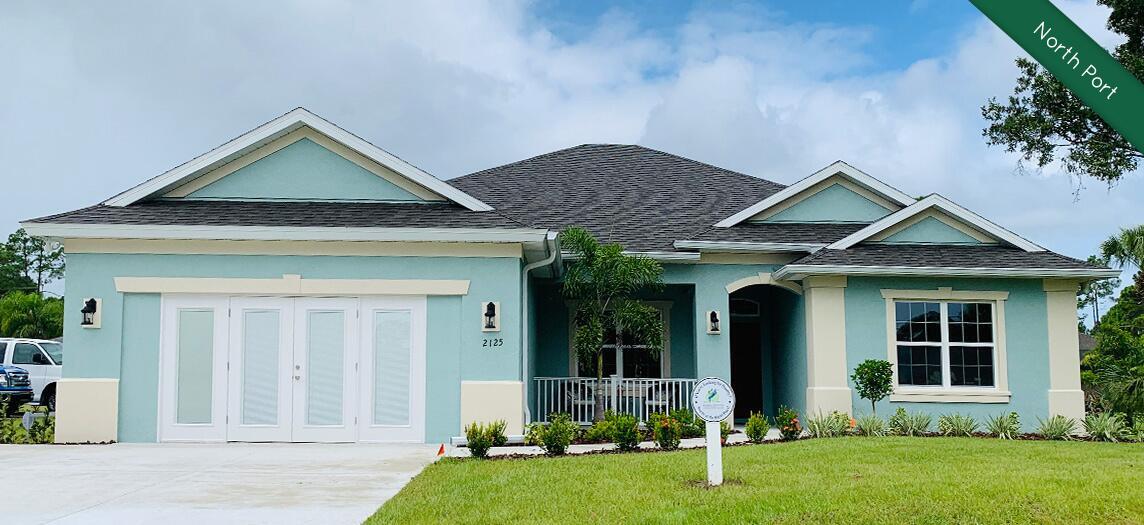 Queen Palm 
This graceful palm tree adds a tropical touch to the backyard with its feathery fronds and can provide shade in larger spaces.
Firebush 
This native Florida plant is perfect for attracting wildlife to your landscaping, with its vibrant red-orange flowers and glossy green leaves. It prefers full sun and well-drained soil.
Hibiscus
This tropical plant is a staple in Florida gardens, with its large, showy flowers in shades of pink, red, orange, and yellow. It's perfect for adding a pop of color to your landscaping, and it's relatively easy to care for.
Plumeria
This fragrant tropical plant is perfect for adding a touch of the exotic to your landscaping. It produces flowers in shades of pink, yellow, and white and prefers full sun and well-drained soil.
Crotons
These colorful shrubs are perfect for adding a tropical touch to your landscaping, with their bold, variegated leaves in shades of red, orange, and yellow. They prefer full sun and well-drained soil.
With an array of tropical plants available, you can transform your Florida landscape into a lush and inviting oasis that transports you to a tropical paradise right in your own backyard.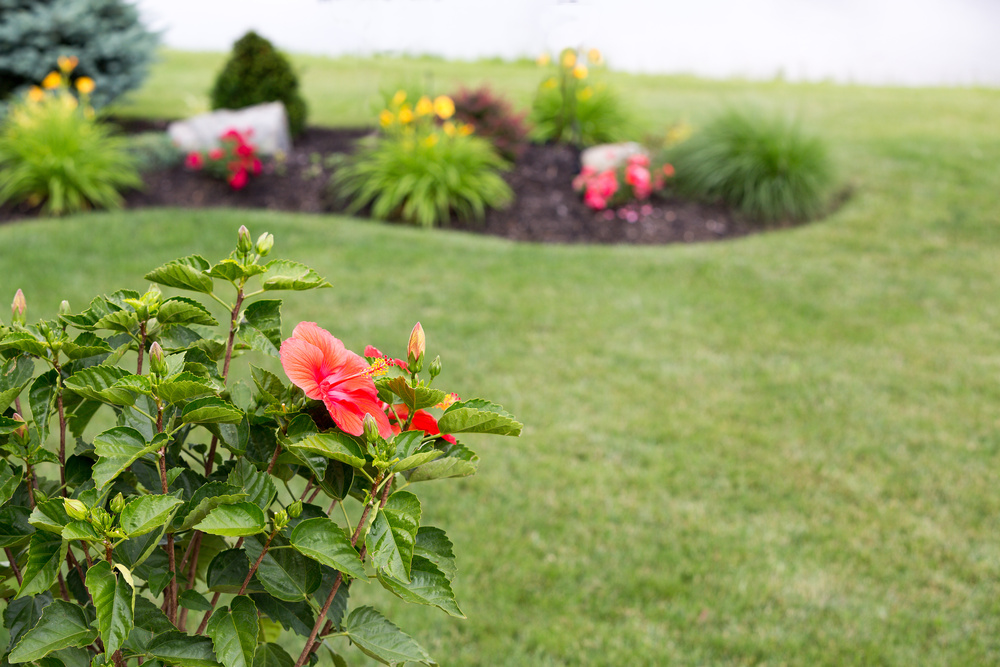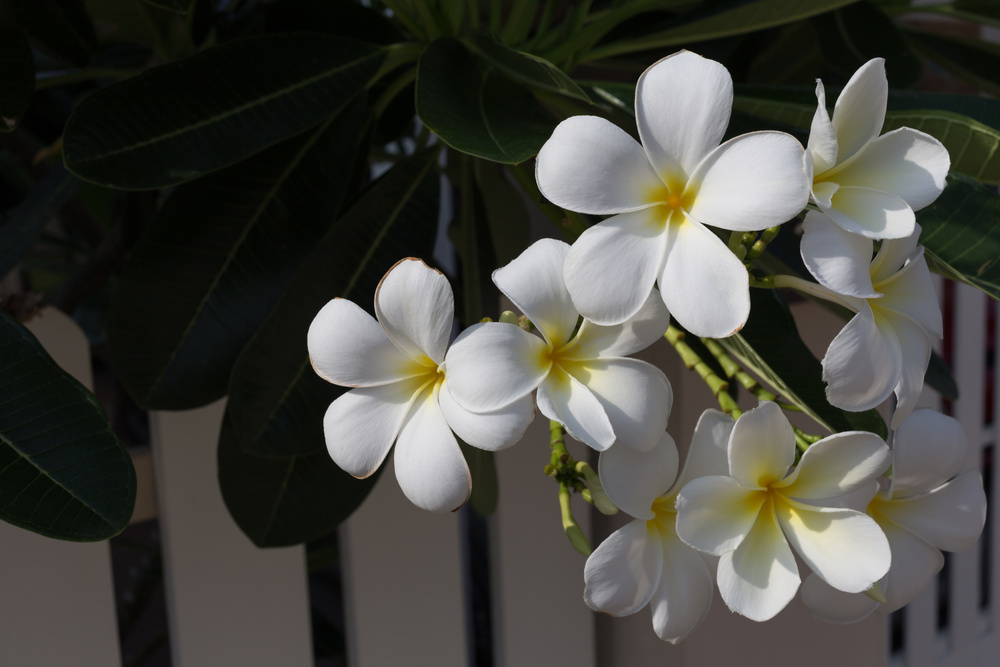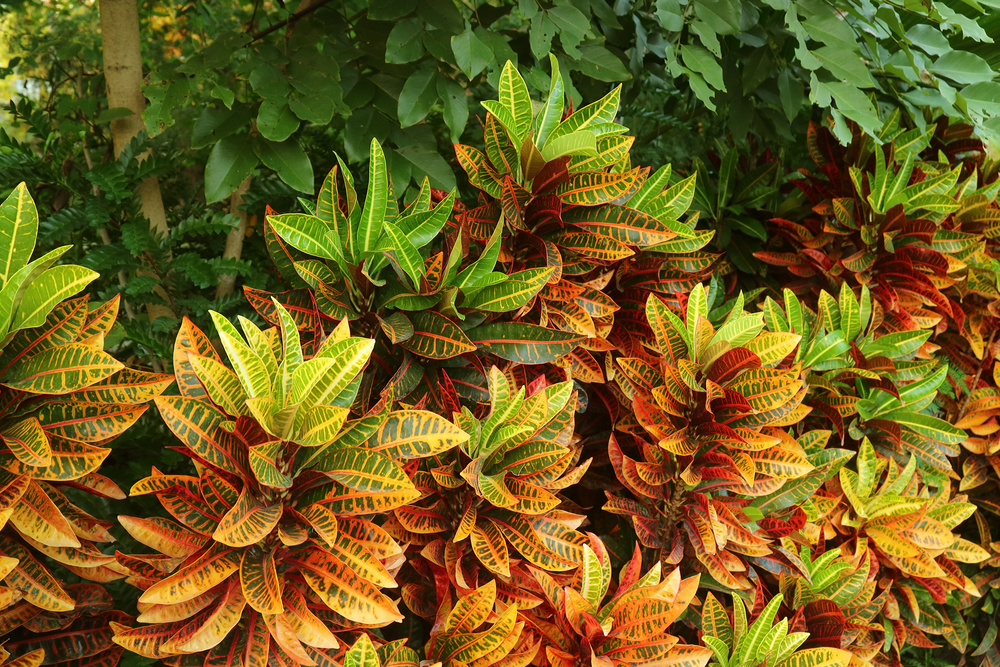 Find the Best Landscaping Companies in Florida for Your Yard
When it comes to choosing a landscaping company, it's essential to find a trusted and experienced team that can bring your outdoor vision to life. Look for a company that offers a comprehensive range of services, from landscape design and installation to ongoing maintenance. Consider their portfolio and previous projects to ensure they have experience working in your area and can meet your specific needs. It's also important to check if the company is licensed and insured, providing you with peace of mind and protection. Additionally, read customer reviews and testimonials to gauge their reputation and level of customer satisfaction. A reliable landscaping company will have a professional and knowledgeable team who can provide expert advice, creative solutions, and exceptional customer service.
Landscaping Companies in North Port Florida
Enhance the beauty of your outdoor space with the help of reputable landscaping companies in North Port. FloraTropic Landscape & Design, LLC offers a comprehensive range of services, including garden design, maintenance, and light installation. Green Topps Landscaping & Tree Service is known for their expertise in landscape installation, and tree maintenance for both residential and commercial properties. Fine Design Lawn Care Inc. offers professional landscape services, including lawn care, stump grinding and irrigation system installation and repair. With the right landscaping company, you can create a beautiful and functional outdoor space that brings value and joy to your property for years to come.
Which Florida Home Landscaping Ideas Inspired You?
North Port is a great place for gardening and landscaping, with its warm climate and abundant sunshine. Planting flowers and bushes can add color and texture to your home's landscaping and make it stand out from the rest. We hope our Florida home landscaping ideas help to get you started. Do some research and find the plants that are right for your landscaping needs and enjoy the beauty that they bring to your home!