It's no secret that winters in Florida are extremely mild. And while most flock to Florida to escape the winter cold, some still dream of a white Christmas for the holidays. Indeed, Christmastime in the Sunshine State sits different. Unless we're talking sandy beaches, you are not going to have a white Christmas. However, since winter weather in Florida remains balmy and bright, there are tons things to do during Christmastime.
Between holiday train rides, local parades and Christmas light displays, there's a multitude of fun activities to bring in the holiday spirit. And speaking of Christmas light displays: we've compiled a list of the best places to see Christmas lights in Florida.
From the Orlando to Miami, Ocala to Tampa, here are our picks for the best places that brighten up the winter holiday season.
Brighten Up the Season: Christmas Lights in Florida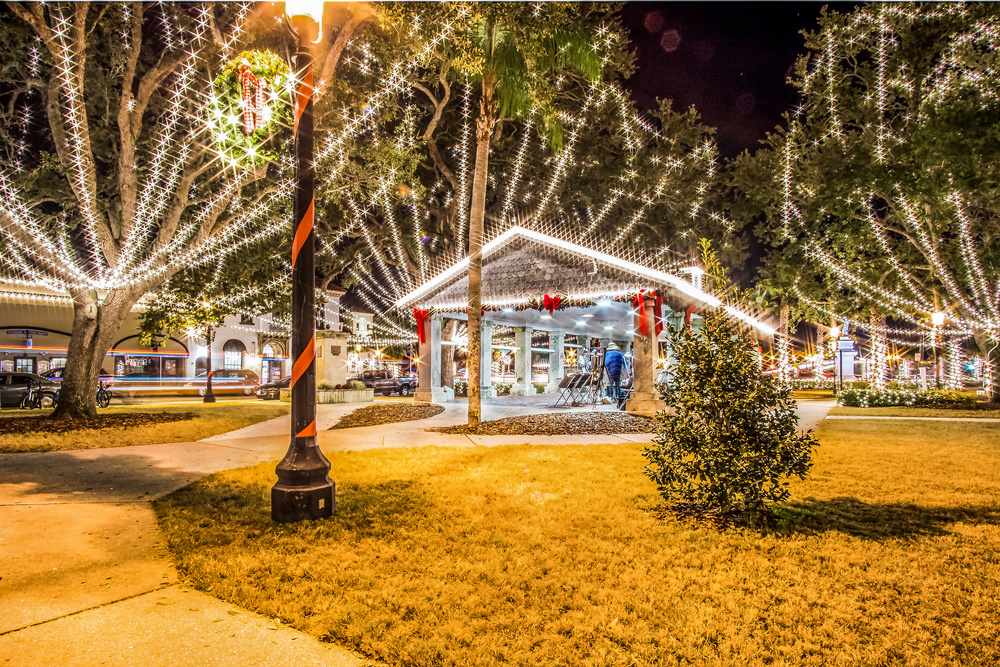 Night of Lights, St. Augustine
Without a doubt, first on our list is the Nights of Lights in St. Augustine. This show is easily Florida's most extravagant light display. In fact, Nights of Lights has become famous around the world as one of the best places to see holiday lights. The festival has been featured in National Geographic and is celebrating its 29th anniversary this year. Visitors and long-time residents alike gather to see the oaks strung with lights in St. Augustine's historic district. St. Augustine is the nation's oldest city, and you can walk the brick lined streets, shop and eat under the lights this season. The lights will be up from Saturday, November 19, 2022, to Tuesday, January 31, 2023.
And if you live in one of our Deltona communities in St. Augustine, take full advantage of your nearby location. See the lighting up of the Bridge of Lions and the Plaza de la Constitucion. Moreover, stroll the streets to see the millions of lights adorning the Spanish architecture archways, park palm trees and more.
Dazzling Jax
Next, immerse yourself in the wonder of the holidays in Jacksonville, FL. Explore a hazy forest of lasers, walk under a canopy of Moroccan lanterns and through a tunnel of giant stars at Dazzling Nights. Open from November 25, 2022 – January 1, 2023, you can visit these amazing lights display at Jacksonville Arboretum and Gardens. Dazzling Nights is a nighttime walking experience and includes an 8,000 square foot lighted maze, a light show and great photo opportunity in front of their 30' tall Christmas tree.
Images courtesy of www.dazzlingjax.com
Holiday Lighted Boat Parade in Tampa
If you're looking to enjoy "Florida lifestyle living" to its fullest this holiday season, look no further. The Holiday Lighted Boat Parade in Tampa is Tampa's largest lighted boat parade. This year it will happen the Saturday before Christmas, December 17, 2022, along the Hillsborough River in Downtown Tampa.
Beginning at the southern tip of Davis Islands, the parade travels through the Convention Center basin and up to the Heights where the boats will then head to Sparkman Wharf for judging. The judges from Big Brothers and Big Sisters will vote for the 1st, 2nd and 3rd place winners of the sailboat and motorboat competitions.
Image courtesy of www.thetampariverwalk.com
Santa's Enchanted Forest
From November 9, 2022- January 8, 2023 you can visit Santa's Enchanted Forest in Miami, FL. With a larger venue this year, you can enjoy 40 acres of dazzling light displays and attractions. Additionally, you can see acrobats, magic and more shows as well as enjoy rides such as the Polar Express and Avalanche coaster. However, if you are wanting a more relaxed visit, you can opt out of rides and just enjoy the ambiance and interactive experiences. For instance, you could enjoy game booths, face painting, Christmas Karaoke, and the Christmas Light Show Spectacular. With over 100 rides, games, shows and attractions, there is something for everyone. And again, you will see some of the best Christmas lights in Florida!
Images courtesy of www.santasenchantedforest.com
Enchant St. Petersburg, FL
We know that Christmas lights in Florida can set the mood for the holiday. But what can be more spirited than a story-themed Christmas light maze? Presented by Hallmark Channel, Enchant St. Petersburg, FL will transport you into a wonderland. Here you can stroll through lighted tunnels and look for stars as you take in the 100' Christmas tree. While there you can grab some skates and glide through a forest of Christmas lights and explore a Christmas Village to sample holiday treats and beverages. This is the perfect spot to start your countdown to Christmas with your family. They are open November 25, 2022 – January 1, 2023. And if you're in one of our Citrus Springs communities, you are only about an hour and a half away from the festivities!
Celebrate Christmas in Florida
All in all, those are our top recommendations to see Christmas lights in Florida. However, there are tons of festive things to do during the holidays. So, if you still need ideas for things to do in Florida this Christmas, here are some more ideas.
While they may have not made the list for their lights, you can always check out some of the local festivals and attractions in your area. Some events that we love are Ice! At Gaylord Palms, Dickens on Centre Festival in Amelia Island and the Christmas Tree Stroll at Disney Springs. Furthermore, if you're located in our Ocala or Citrus Springs communities, you should stop by Rainbow Springs State Park. We always love this park, but the lights make it ideal for the season.