St. Augustine may be known as the oldest established city in North East Florida, but there are a lot of fun facts about St. Augustine Florida that we are sure you will be surprised by!
St. Augustine is a popular tourist destination as well as a popular place to retire to. Everyone loves this old city, and for good reason. She offers so much to do and see with a rich history along with stunning Florida beaches. We are going to teach you some of our favorite fun facts about St. Augustine that you can use to impress your friends at dinner parties.
Fun Facts about St. Augustine You Probably Have Never Heard Before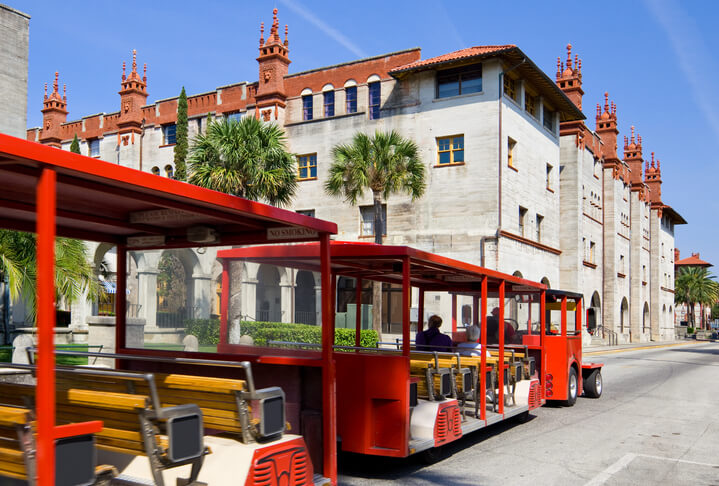 St. Augustine is the first Spanish settlement that was successfully established in Florida.
For over three hundred years, St. Augustine was the most important city in the South Eastern United States. It was chosen by the Spanish due to it being easy to defend as well as having easily accessible freshwater. The city is filled with history around every corner, and you can always learn something new and insightful about our beautiful city.
St. Augustine was founded in 1565 by Pedro Menéndez de Avilés.
Speaking of being the oldest city, did you know that the city was officially established in 1565!?! The Spanish explorer, Pedro Menéndez de Avilés was the first Florida governor as well and remained in office until he dies of typhus in 1574.
Did you know St. Augustine has the narrowest street in the US?
One of our favorite fun facts about St. Augustine is that it has the narrowest street in the US. Treasury Street is only 7 feet wide! It connects the Royal Spanish Treasury to where the ships dock on the bay. This street was actually made to be narrow on purpose. Its purpose was to deter thievery. The thought was that the thieves would find it too difficult to remove and escape with chests of gold from the treasury.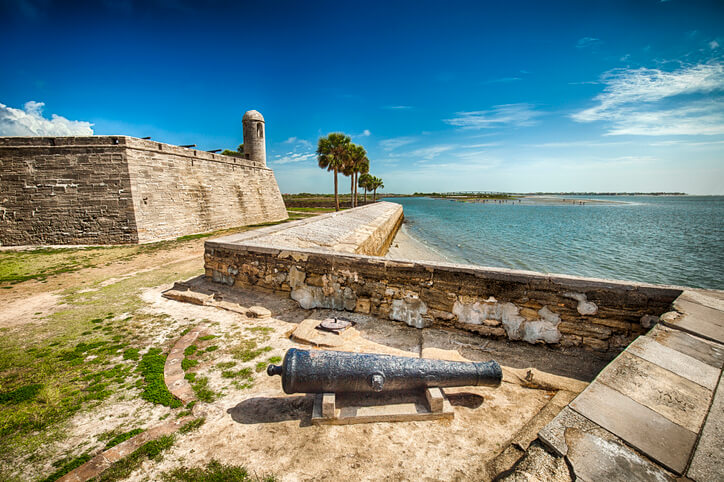 The reason the city is a tourist destination now is thanks to Henry Flagler.
St. Augustine is one of the most popular Florida tourist destinations. There is so much to do. This city offers the Florida lifestyle to the max, and that is all thanks to one man named Henry Flagler.
For quite some time in the 1880s, the city was neglected until railroad tycoon Henry Flagler came in to build the city up. He built a large number of opulent hotels and promoted the town as a winter resort for the elite of the north to escape the cold.
In modern times, St. Augustine has only been directly hit by one hurricane.
If there is one thing Florida is known for apart from tourist spots, theme parks, and beaches, it is the hurricanes. They are an unavoidable fact of nature here in sunny Florida, but some cities are less prone to direct hits than others.
St. Augustine was hit by Hurricane Dora in 1964, but that has been the last direct hit. While Matthew did cause flooding in 2016, it was the outer bands and not a direct hit.
At one point, the city's fort had three different names.
Another one of our favorite fun facts about St. Augustine is that the fort had 3 names. Castillo de San Marcos, Fort St. Mark, and Fort Marion. The first was Castillo de San Marcos, named by the Spanish who built it. Then it became Fort St. Mark when the British took over and finally became Fort Marion when Florida became a US territory. The original name of the fort was then restored by Congress in 1942.
St. Augustine has the oldest wooden schoolhouse.
Out of all of the places in the US, our beautiful city of St. Augustine has the oldest wooden school building. While the exact build date is not known, there are tax records that appear to date it back to 1716.
The infamous St. Augustine lighthouse is rumored to be haunted.
So this may be one of the most well-known of the fun facts about St. Augustine, but it is fun nonetheless.  The lighthouse was built in 1874 and according to legend, the location has numerous hauntings all connected to the lighthouse itseld.
The St Augustine Alligator Farm Zoological Park Houses Every Species of Alligator, Crocodile, Caiman, and Gharial.
Need we say more? If you are a reptile enthusiast, then you need to go check out the park. If you are feeling super adventurous, you can even do a zipline over the gators!
There are so many fun things about St. Augustin, Florida, and now you can impress your friends with your wealth of unique information about the oldest city in the US.