At Deltona, we pride ourselves on Bringing Families Home. We offer quality-built, new construction homes at affordable prices in the location of your choice. Florida's Home Builder has both custom homes and move-in-ready homes waiting for you, and our Florida homes for sale stand out among competitive Florida real estate. Our building quality is made to last, and our floor plans are adjustable for your needs. Florida lifestyle living is easy in any of our custom Florida homes.
Common Mediterranean Style Elements to Incorporate into Your Condo
While everyone has their own style, we've been enjoying modern Mediterranean-style décor and aesthetics. This style is a great way to display your own style and personality, and because it's relatively rustic and comfortable, incorporating Mediterranean elements into your home is a fun and simple task. Keep reading for a few tips!
Colors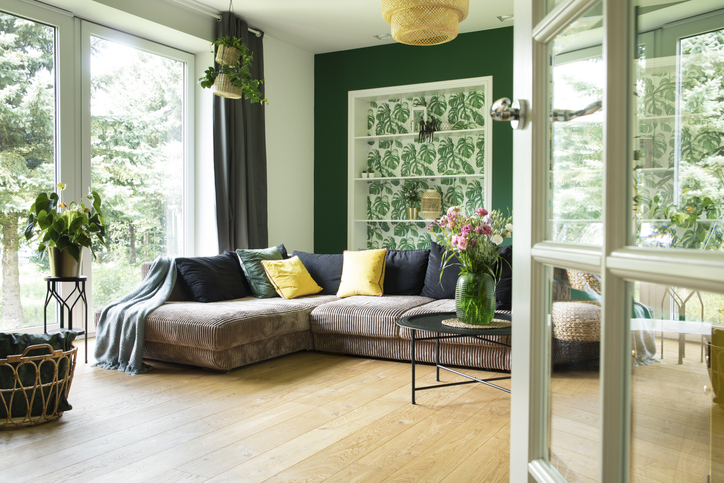 As one of the most important ways to attain a Mediterranean feel in your home, adding the right colors will help you start off on the right foot when decorating. This aesthetic can be earthy, vibrant, or a fun mixture of both. Jewel tones, like emerald green, sunflower yellow, and deep blues combined with earthy browns and golds reflect the region's natural hues. If you're hesitant to cover your walls using strong colors, focusing on accents gives you another option. Paint your walls a simple color, such as beige or off-white, then add accent walls or pieces to bring the room together. Canvases with jewel-toned colors will also add that Mediterranean feel.
Flooring
Using tiles for flooring is a classic way to turn your home more Mediterranean. They're low maintenance, and they also keep a cool temperature inside. Terra cotta was, at one point, most commonly used, but many are beginning to use marble or limestone in higher-end homes. For a more unique look, try hand painting a few tiles here and there in Mediterranean colors. If you're on a budget, adding just a few of these at the entryway or along the outdoor path will make a great effect right away! You can even add elaborate tiles with bold colors to a wall to immediately elevate any room.
Stone and Marble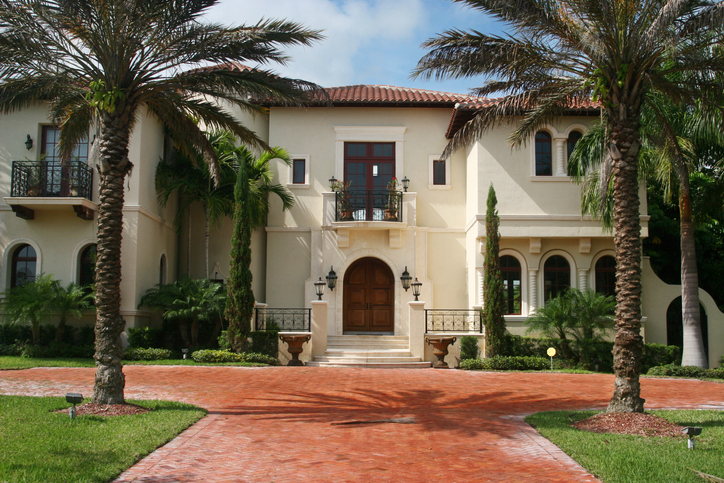 As we stated above, marble and stone are great materials to incorporate into your Mediterranean-style home. They are a bit more expensive, but they'll withstand almost anything. You can use glass shower windows to show off the rest of your luxury marble shower. And marble countertops will elevate your kitchen instantly. Stone walls are even a great accent to use inside or out that are sturdy and elegant.
Lighting
Most Mediterranean homes have multiple large windows for consistent, natural light to brighten up any space. They often forego any sort of curtains or drapes to illuminate the inside as much as possible. If you're concerned about privacy, adding sheer curtains or drapes will still let light in while having some privacy if needed.
Ceramic backsplashes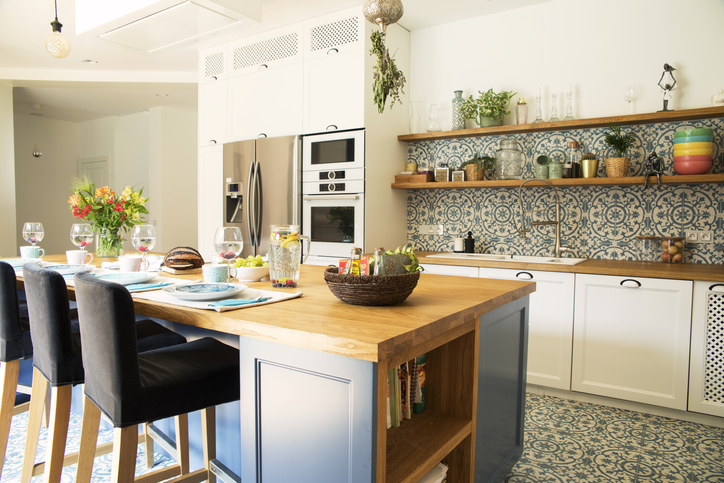 The use of new or used ceramics in bathrooms, kitchens, and smaller rooms is very common in the Mediterranean, and they don't even need to match! This is where you can really incorporate some of your own style and personality into your home in endless different combinations. Add in as many or as few unique pieces of ceramic as you want.
High Ceilings
If you're in a warmer climate, higher ceilings are a great idea as they trap hot air during the day and keep it cooler inside. Many homes are being built like this now, but the idea originates from the Mediterranean. You'll find this style very common in warm climates, because of its practicality to keeping the inside cool.
We hope this helps you on the way towards your perfect Mediterranean-style home! Remember that high ceilings will give an open feel, and lots of windows to let natural light in will give the Mediterranean feel to any room. Mediterranean homes will never go out of style as their elements are timelessly classic. Should you have any questions about how to style and build your home, you can always contact us and speak with a friendly staff member, or visit our website.