On Tuesday May 21st, Homes by Deltona hosted a Broker Breakfast Caravan for the Anastasia Island Watson Real Estate office at Grand Ravine in south St. Augustine and San Savino in the St. Augustine Shores.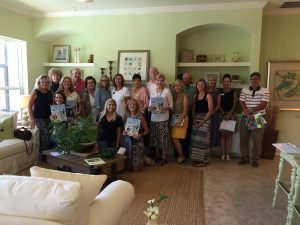 Realtors first toured Grand Ravine, a Mediterranean style one or two level condominium community. Attendees enjoyed a fresh fruit medley as they toured the Carla (1932 sf) and Madelon (1613 sf) models. The Carla features a ground floor master suite and the Madelon showcases the one level open concept floor plan that is a Grand Ravine favorite. Attendees also took the opportunity to experience the private residential elevators that serve the 2nd floor flats. The positive feedback from the agents about Grand Ravine included the high quality of the construction referring to the concrete block walls and the concrete tile roofs. The low monthly dues, the lower utilities and the natural gas appliances were considered a plus for their customers.
Next the twenty-five agents drove one mile over to San Savino, an upscale single-family home community conveniently located in the quiet St. Augustine Shores. The realtors found the 2275 sf Florence Model floor plan to be open, spacious and beautifully finished. The realtors' comments included being very impressed with the extensive upgrades that Homes by Deltona builds as their standard features. The realtors held their own sales meeting as they enjoyed the full Breakfast Waffle Bar catered by Café 11. Toni Douglas was the happy recipient of a $50 Visa Gift Card Drawing. And, all the agents were happy to hear that San Savino is currently running an exciting $1,000 Realtor Bonus program!