On Friday, December 7th, 2018 the Homes by Deltona staff celebrated a "Holly Jolly Christmas Party"..
JT's Seafood Shack in Palm Coast was the setting for this year's party. The fabulous crew at JT's pulled out all the stops in creating a welcoming, festive dining experience. With white linen tablecloths and festive holiday poinsettias, it was beginning to feel a lot like…well…a Christmas Party! Upon arrival to the party, everyone ordered cocktails and took their seats. After a welcoming toast, everyone was asked to stand and read their Christmas cards, which were written with a personal holiday message inside. The Christmas cards were a huge hit and no one got their "Tinsel in a Tangle"!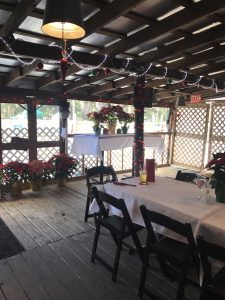 Now, let me tell you about the food! We started off with appetizers…Garlic & Parmesan Wings, Calamari, and platters of Onion Rings. I can't begin to tell you how delicious the appetizers were! While everyone mingled and enjoyed their cocktails, the Chef was preparing Grilled Salmon, Blackened Mahi Mahi, Baby Back Ribs, Shrimp & Grits, and Seafood Platters. Can you say yummy? If you haven't visited JT's Seafood Shack in Palm Coast, then you definitely should add it to your bucket list!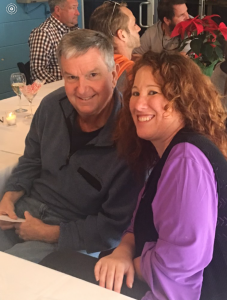 No Christmas Party is complete without a few "Reindeer Games" and this party was no exception! After our meal, everyone was divided into two teams, the 'Trim A Tree' team or the 'Build A Snowman' team. We held a drawing to see who would be the 'Tree' and who would be the 'Snowman'. Once that was decided we provided each team with the materials to complete their task. "Oh, what fun it is to laugh" and watch everyone who participated in this "team-building exercise". LOL! Check out the photos and treat yourself to a Holly Jolly chuckle!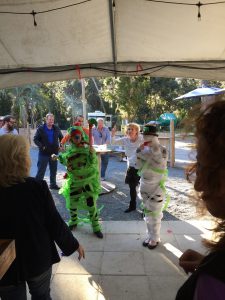 We then played "Dirty Santa", which is similar to the "White Elephant" game, where everyone takes a turn choosing a wrapped Christmas gift or steals a previously opened gift from their 'used to be favorite co-worker'. Hey! Don't take my "Rudolph the Red Nosed Reindeer" pajamas!
From our family to yours…Merry Christmas!